In 1889, Empress Elizabeth of Austria built a summer palace in the region of Gastouri (Γαστούρι) to the south of the city, naming it Achílleion (Αχίλλειον) after the Homeric hero Achilles. The structure is filled with paintings and statues of Achilles, both in the main hall and in the gardens, depicting scenes of the Trojan War. The palace, with the neoclassical Greek statues that surround it, is a monument to platonic romanticism as well as escapism.
Achilles as guardian of the palace in the gardens of the Achilleion. He gazes northward, toward the city. The inscription in Greek reads: ΑΧΙΛΛΕΥΣ i.e. Achilles. It was commissioned by Kaiser Wilhelm II.
The Imperial gardens on the hill look over the surrounding green hills and valleys and the Ionian sea. The centrepiece of the gardens is a marble statue on a high pedestal, of the mortally wounded Achilles (Greek: Αχιλλεύς Θνήσκων, Achilleús Thnēskōn, Achilles Dying) without hubris and wearing only a simple cloth and an ancient Greek hoplite helmet. This statue was carved by German sculptor Ernst Gustav Herter.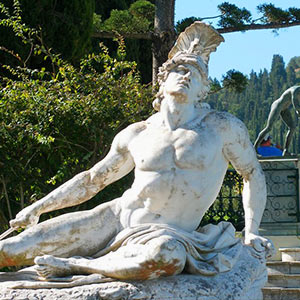 The hero is presented devoid of rank or status, and seems notably human though heroic, as he is forever trying to pull Paris's arrow from his heel. His classically depicted face is full of pain. He gazes skyward, as if to seek help from Olympus. According to Greek mythology, his mother Thetis was a goddess.
In 1898, Empress Sissi was assassinated at the age of 60 by an Italian anarchist, Luigi Lucheni, in Geneva, Switzerland. After her death, the palace was sold to the German Kaiser Wilhelm II. In contrast, at the great staircase in the main hall is a giant painting of the triumphant Achilles full of pride. Dressed in full royal military regalia and erect on his racing chariot, he pulls the lifeless body of Hector of Troy in front of the stunned crowd watching helplessly from inside the walls of the Trojan citadel.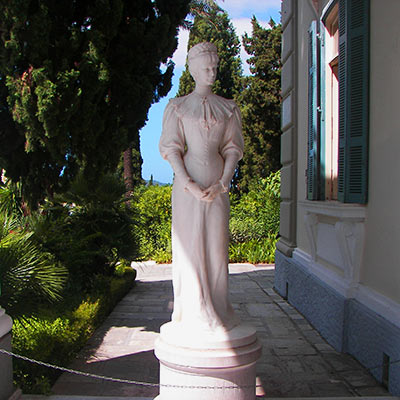 German Kaiser Wilhelm II was also fond of taking holidays in Corfu. Having purchased the Achilleion in 1907 after Sissi's death, he appointed Carl Ludwig Sprenger as the botanical architect of the Palace, and also built a bridge later named by the locals after him—the ``Kaiser's bridge`` (Greek: η γέφυρα του Κάιζερ transliterated as: i yefyra tou Kaizer) -- to access the beach without traversing the road forming the island's main artery to the south. The bridge, arching over the road, spanned the distance between the lower gardens of Achilleion and the nearby beach; its remains, a monument to imperial vanity, are an important landmark on the highway. The bridge's central section was demolished by the Wehrmacht in 1944, during the German occupation of World War II, to allow for the passage of an enormous cannon, forming part of the Nazi defences in the southeastern coast of Corfu.