The Music Pavilion in Spianada Square (Ano Plateia) with Palaio Frourio in the background. The philharmonics use it regularly for their free concerts.
On Good Friday, from the early afternoon onward, the bands of the three Philharmonic Societies, separated into squads, accompany the Epitaph processions of the city churches. Late in the afternoon, the squads come together to form one band in order to accompany the Epitaph procession of the cathedral, while the funeral marches that the bands play differ depending on the band; the Old Philharmonic play Albinoni's Adagio, the Mantzaros play Verdi's Marcia Funebre from Don Carlo, and the Capodistria play Chopin's Funeral March and Mariani's Sventura.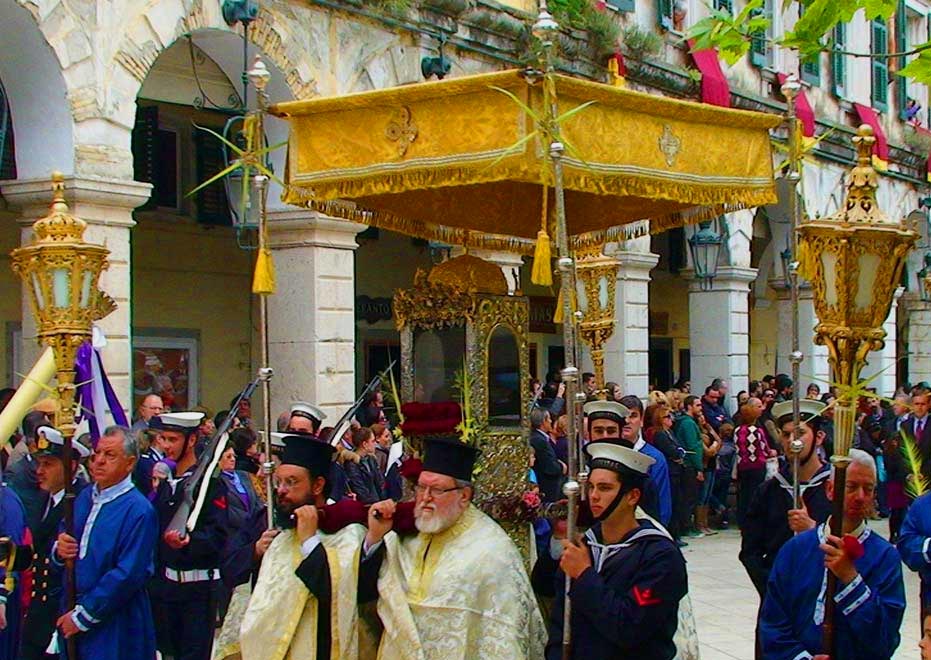 On Holy Saturday morning, the three city bands again take part in the Epitaph processions of St. Spyridon Cathedral in procession with the Saint's relics.
At this point the bands play different funeral marches, with the Mantzaros playing Miccheli's Calde Lacrime, the Palia playing Marcia Funebre from Faccio's Amleto, and the Capodistria playing the Funeral March from Beethoven's Eroica. This custom dates from the 19th century, when colonial administrators banned the participation of the British garrison band in the traditional Holy Friday funeral cortege. The defiant Corfiotes held the litany the following morning, and paraded the relics of St. Spyridon too, so that the administrators would not dare intervene.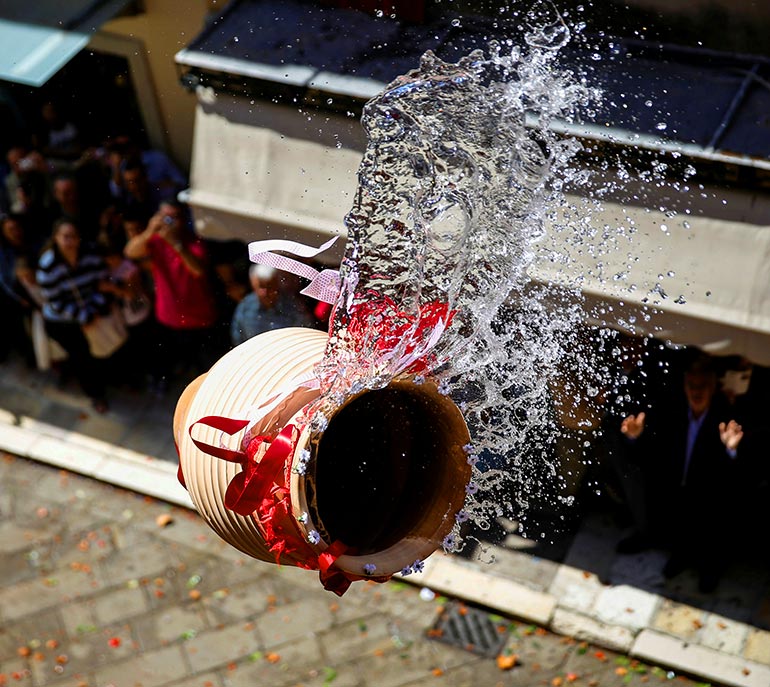 The litany is followed by the celebration of the ``Early Resurrection`` balconies in the old city are decked in bright red cloth, and Corfiotes throw down large clay pots (the bótides, μπότηδες) full of water to smash on the street pavement, especially in wider areas of Liston and in an organised fashion.This is enacted in anticipation of the Resurrection of Jesus, which is to be celebrated that same night, and to commemorate King David's phrase: ``Thou shalt dash them in pieces like a potter's vessel``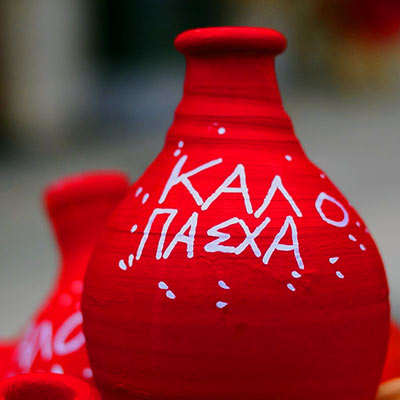 Once the bótides commotion is over, the three bands parade the clay-strewn streets playing the famous ``Graikoí`` festive march. This legendary march, the anthem of the island, was composed during Venetian rule, and its lyrics urged: ``Greeks, never fear, we are all enslaved: you to the Turks, we to the Venetians, but one day we shall all be free``. The Venetians were replaced by the French and the French by the British, and both the lyrics and the performance of the march were officially banned. The bands, however, defiantly played it on the Eve of Easter, as a token of the resurrection of the nation, and the tradition is honored to this day.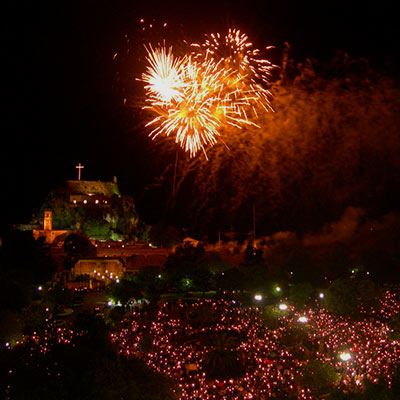 Our Recommendations in Corfu